B/Br 2015 16.3HH (1.70M)
Medaglia d'Oro – It's Tricky (Mineshaft)
Standing at Jonabell Farm, Kentucky
G1 juvenile by sire of sires Medaglia d'Oro out of three-time G1 winner It's Tricky.
Ran third in the G1 Champagne on only his second start and also won the G2 Kentucky Jockey Club Stakes at two. Took the G3 Gotham, posting a 95 Beyer, and was runner-up to Vino Rosso in the G2 Wood Memorial at three.
First yearlings brought $135k, $105k, $100k, etc., and Mike Ryan bought a pair of two-year-olds at OBS March for $200k apiece.
Best progeny
His winning offspring
Video footage
Watch him go:
see him at his best
Kentucky Jockey Club S (G2), 8½f, Churchill Downs, 25 Nov 2017
Gotham S (G3), 8f, Aqueduct, 10 Mar 2018
Maiden Special Weight, 6f, Saratoga, 04 Sep 2017
Special insights:
interviews, expert opinion and more
See the full playlist on YouTube
Pedigree
ENTICED

MEDAGLIA D'ORO

EL PRADO

SADLER'S WELLS

NORTHERN DANCER

FAIRY BRIDGE

LADY CAPULET

SIR IVOR

CAP AND BELLS

CAPPUCINO BAY

BAILJUMPER

DAMASCUS

COURT CIRCUIT

DUBBED IN

SILENT SCREEN

SOCIETY SINGER

IT'S TRICKY

MINESHAFT

A.P. INDY

SEATTLE SLEW

WEEKEND SURPRISE

PROSPECTORS DELITE

MR. PROSPECTOR

UP THE FLAGPOLE

CATBOAT

TALE OF THE CAT

STORM CAT

YARN

NORTHERN FLEET

AFLEET

GLENORTHERN
By MEDAGLIA D'ORO (1999) Travers S (G1), Whitney H (G1), Donn H (G1), etc. Sire of 2,246 foals aged three and up, including ENTICED, ASTERN, BAR OF GOLD, BOLT D'ORO, CAMBIER PARC, ELATE, GABBY'S GOLDEN GAL, GOLDEN SIXTY, HIGHER POWER, MSHAWISH, NEW MONEY HONEY, PLUM PRETTY, RACHEL ALEXANDRA, SONGBIRD, TALISMANIC, VANCOUVER, VIOLENCE, WARRIOR'S REWARD, etc.
1st dam: IT'S TRICKY by Mineshaft. 8 wins (6f-9f) at 2 to 4, Coaching Club American Oaks (G1), Acorn S (G1), Ogden Phipps H (G1), Distaff H (G2), Top Flight H (G2), Busher S, 2nd Beldame S (G1), Alabama S (G1), Breeders' Cup Ladies' Classic (G1), Cotillion S (G2), 3rd Personal Ensign H (G1). Dam of 3 foals, 2 to race, 2 winners:
ENTICED (c Medaglia d'Oro) Graded winner, see Race record.
Enliven (f Ghostzapper) Winner (8½f) at 2, 2nd Tempted S (G3).
2nd dam: CATBOAT by Tale Of The Cat. 6 wins (7f-9f) at 3, Arlington Oaks (G3), 2nd Sweetest Chant S, 3rd Golden Sylvia H, Merry Colleen S, Mariah's Storm S, Pippin S. Dam of 5 winners:
IT'S TRICKY (f Mineshaft) Group winner, see above.
JANGADA (g Tapit) 3 wins at 3 and 4.
FELINI (f Bernardini) 2 wins at 3 and 4. Dam of:
Purrfect (f Medaglia d'Oro) 3rd Belle Mahone S (G3).
Heartofthematter (f Medaglia d'Oro) Dam of:
Cielo d'Oro (f Sky Mesa) 3rd Bison City S.
3rd dam: NORTHERN FLEET by Afleet. 3 wins at 4. Dam of 9 winners:
CATBOAT (f Tale Of The Cat) Group winner, see above.
This Fleet Is Due (c Devil His Due) 2nd Long Branch S. Sire.
Betty Garr (f Out Of Place) 2nd Fiesta Mile S, Bara Lass S, 3rd Lone Star Oaks, San Jacinto S.
4th dam: Glenorthern by Northern Fling. 5 wins at 4, 2nd Oranges S. Dam of 8 winners:
NORTHERN WOLF (c Wolf Power) Primer S, Mister Diz S, Duck Dance H, Deputed Testamony S, Frank J de Francis Memorial Dash S, 3rd Grey S (G3), Cherry Hill Mile S (G3). Sire.
NORTHERN BELIEF (f Believe It) 4 wins at 4. Dam of:
CHEZ ALLIE (f Housebuster) Opequon H, Canaan Valley S, Winning Colors S, 2nd American Holly S, HBPA City Of Charles Town H, Toddler S, Laura Gal S, Arctic Cloud S, 3rd Lady Dean S. Dam of: CHEZ LANG (f Langfuhr) Cinderella S; A Good Run (f Value Plus) 2nd Rachel's Turn S, 3rd West Virginia Nutrition Breeders' Classic S.
Waller (c Personal Flag) 2nd Primer S.
Gabe's Girl (f Proud Truth) 2nd Maryland Juvenile Championship S (f), 3rd Jameela S.
Kells Bells (f Artax) Unraced. Dam of: Krusin Kelly (f Artie Schiller) 2nd Jenny Wade S.
SHANNONAIRE (f Phone Trick) Winner at 2. Dam of:
ZIPPY SHANNON (f City Zip) Schenectady H.
Stud record
Enticed's first crop are two-year-olds of 2023.
Conformation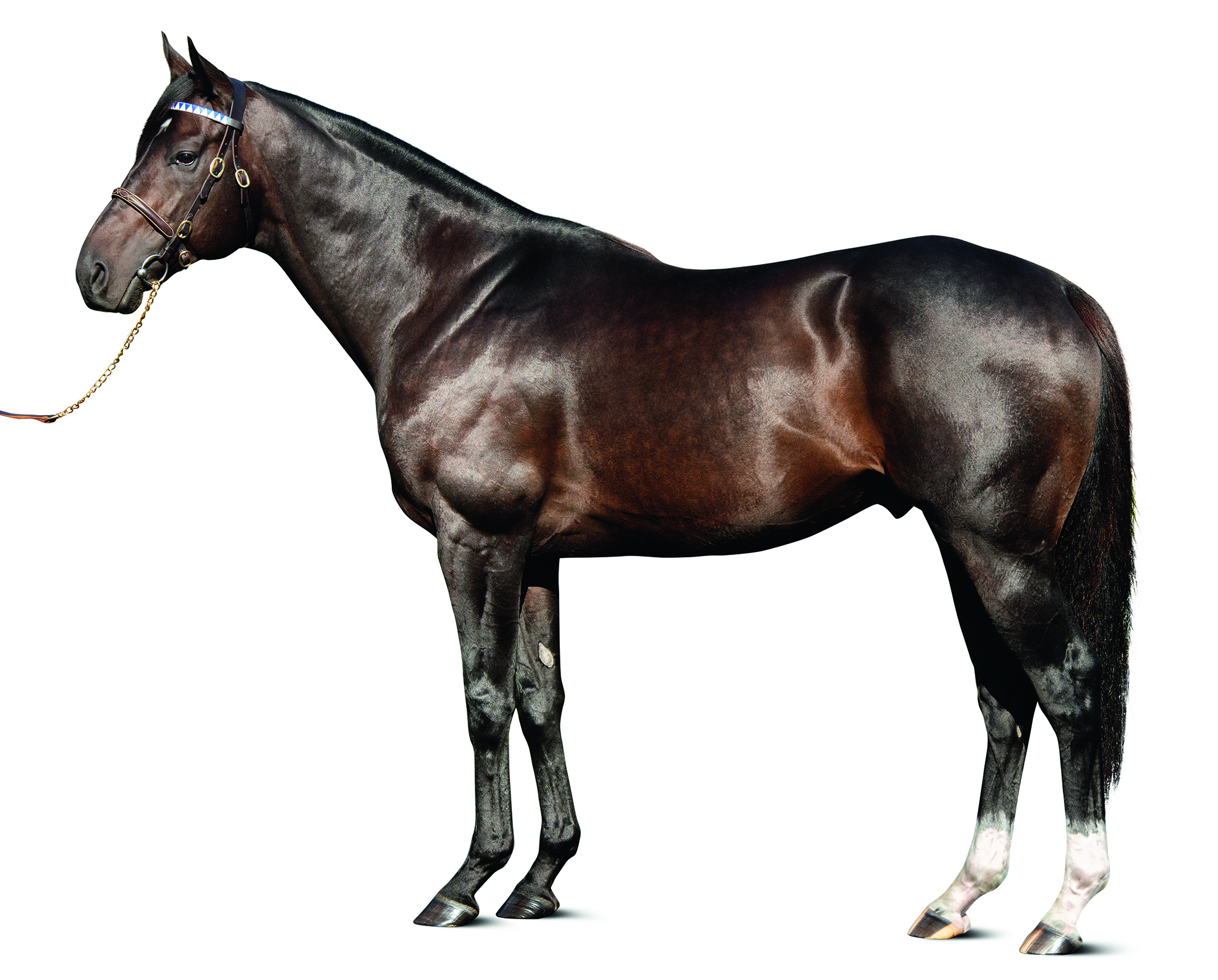 Race record
His successful career
| | | | | | |
| --- | --- | --- | --- | --- | --- |
| Age | Starts | 1st | 2nd | 3rd | Earnings |
| Two | 3 | 2 | - | 1 | $213,880 |
| Three | 4 | 1 | 1 | - | $381,800 |
| Total | 7 | 3 | 1 | 1 | $595,680 |
At 2
1st

Kentucky Jockey Club S (G2), 8½f, Churchill Downs, beating Tiz Mischief, Promises Fulfilled, High North, Lone Sailor, Reride, Quip, Givemeaminit, John Tippmann, Bravazo, Peppered, Gotta Go, Diamond King.

1st

Maiden Special Weight, 6f, Saratoga, by 1¾l, beating Dirty, Pete Marwick, Sand Dancer, Marzo.

3rd

Champagne S (G1), 8f, Belmont Park, to Firenze Fire, Good Magic, beating Kowboy Karma, Hazit, Honorable Treasure, Aveenu Malcainu, Full Of Run, Stronger.
At 3
1st

Gotham S (G3), 8f, Aqueduct, by 2¾l, beating Old Time Revival, Free Drop Billy, Firenze Fire, Whereshetoldmetogo, Nine Route, Beautiful Shot, Dial Operator.

2nd

Wood Memorial S (G2), 9f, Aqueduct, to Vino Rosso, beating Restoring Hope, Firenze Fire, King Zachary, Evaluator, Old Time Revivial.

4th

Holy Bull S (G2), 8½f, Gulfstream Park, to Audible, Free Drop Billy, Tiz Mischief, beating Pony Up, Tip Sheet, Aequor.
Breeding forms
View and complete our breeding forms for the current season and send us your vet certificates.
Our stud office team is here to help on +1 859 255 8537.
Complete and submit this form as part of your booking. Please double-check pedigree and ownership details and use correct spelling.
If using the PDF version (click here), all paperwork must be emailed to darleyshedforms@godolphin.com
Complete the form and submit your mare's breeding shed information.
If using the PDF version (click here), all shed paperwork (shed form and veterinary certificates if applicable) must be emailed to darleyshedforms@godolphin.com
Kentucky Department of Agriculture – 2023 testing requirements for imported mares to be bred.
C.E.M. testing and treatment requirements.
Importing from C.E.M. affected countries.
You must have Adobe Acrobat Reader to view and print these forms. If you need to get this free program, click here.
Directions to Breeding Shed:
If using GPS, please use the following address for the Darley Breeding Shed entrance:
3555 Bowman Mill Rd
Lexington, KY 40513
Once through the gate, follow the signs directing you to the breeding shed.