B/Br 2004 16.2½HH (1.69M)
By Street Cry – Bedazzle (Dixieland Band)
$45,000
Stands and nurses. Standing at Jonabell Farm
The first Champion two-year-old in nearly 30 years to win the Derby and the only Breeders' Cup Juvenile winner to take the Derby. Sire of G1 winners Sweet Reason, Aubby K, Callback, Wedding Toast, and Street Fancy, plus Hallowed Crown in Australia. Six G1 performers in 2015.
STREET SENSE

STREET CRY

MACHIAVELLIAN

MR PROSPECTOR

RAISE A NATIVE

GOLD DIGGER

COUP DE FOLIE

HALO

RAISE THE STANDARD

HELEN STREET

TROY

PETINGO

LA MILO

WATERWAY

RIVERMAN

BOULEVARD

BEDAZZLE

DIXIELAND BAND

NORTHERN DANCER

NEARCTIC

NATALMA

MISSISSIPPI MUD

DELTA JUDGE

SAND BUGGY

MAJESTIC LEGEND

HIS MAJESTY

RIBOT

FLOWER BOWL

LONG LEGEND

REVIEWER

LIANGA
By STREET CRY (1998) Dubai World Cup (G1), Stephen Foster (G1), etc. Sire of 1,487 foals aged three and up, including STREET SENSE, DESERT PARTY, STREET BOSS, ZENYATTA, CRY AND CATCH ME, HERE COMES BEN, LONG JOHN, LYRIC OF LIGHT, MAJESTIC ROI, NEW YEAR'S DAY, PRIDE OF DUBAI, SEVENTH STREET, SHOCKING, STREET HERO, TOMCITO, VICTOR'S CRY, WHOBEGOTYOU, WINX, etc.
1st dam: BEDAZZLE by Dixieland Band. 4 wins (6f-7½f) at 3 and 5. Dam of 10 foals, 6 to race, 2 winners:
STREET SENSE (c Street Cry) Champion, see Race record.
ELUSIVE SPARKLE (f Elusive Quality) 2 wins (6f-6½f) at 4, Prairie Rose S.
2nd dam: MAJESTIC LEGEND by His Majesty. 7 wins (6f-9f), 3 to 5, Week of Fame Ladies H. Dam of 11 winners:
BINALEGEND (f Binalong) 8 wins, 2 to 6, Reluctant Guest S. Dam of:
Bonnano (c Stephen Got Even) 2nd Clasico Celestino Carbonell.
Smokin' Legend (g Smoke Glacken) 3rd Borderland Derby.
3rd dam: LONG LEGEND by Reviewer. 4 wins at 2 and 3. Dam of 8 winners:
MR. GREELEY (c Gone West) Lafayette S (G3), Swale S (G3), Spectacular Bid Breeders' Cup S (G3), 2nd Breeders' Cup Sprint (G1). Sire.
Talltalelady (f Naskra) 2nd Alcibiades S (G2). Dam of:
TELL IT AS IT IS (f Chester House) Tattling S, 3rd Falls City H (G2).
EPISODE (f Kris S) Winner at 3. Dam of:
VESTREY LADY (f Vicar) Royal North S (G3), 2nd Raven Run S (G2).
Fritzy Ritz (f Carson City) Unraced. Dam of:
True Gritz (f Yes It's True) Placed at 4. Dam of: DOCTOR CHIT (c War Front) Western Larla S, 2nd Amsterdam S (G2).
Brightbraveandgood (f Smart Strike). Dam of:
Little Hussy (f Horse Chestnut) 3rd Natalma S (G3). Dam of: OL' FASHION GAL (f Sky Mesa) Selene S (G3); SPIRITED MISS (f Sky Mesa) Duchess S.
Society Gal (f Linkage). Dam of:
MONA DE MOMMA (f Speightstown) Humana Distaff S (G1).
Uforia (f Zilzal). Dam of:
TAJAAWEED (c Dynaformer) Dee S (G3), Arlington H (G3).
4th dam: LIANGA by Dancer's Image. Champion sprinter in France, Prix Jacques le Marois (G1), Prix Robert Papin (G1). Dam of 7 winners:
LACUNE (f Seattle Slew) 2 wins at 3. Dam of:
GLEN JORDAN (c Shareef Dancer) Premio Natale di Roma (G3). Sire.
Lettre D'Amour (f Caro) Unraced. Grandam of: DANEHILL DANCER (c Danehill) Phoenix S (G1), National S (G1). Sire. Fourth dam of: BURATINO (c Exceed And Excel) Coventry S (G2), 2nd Middle Park S (G1), 3rd Phoenix S (G1).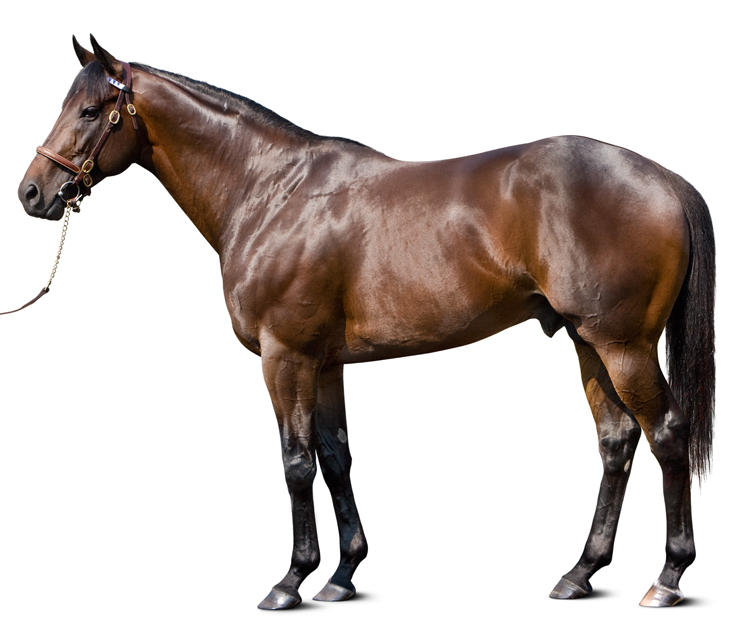 | | | | | | |
| --- | --- | --- | --- | --- | --- |
| Age | Starts | 1st | 2nd | 3rd | 4th |
| Two | 5 | 2 | 1 | 2 | - |
| Three | 8 | 4 | 3 | - | 1 |
| Total | 13 | 6 | 4 | 2 | 1 |
At 2 Eclipse Champion two-year-old colt
1st

Breeders' Cup Juvenile (G1), 8½f, Churchill Downs, by 10l, beating Circular Quay, Great Hunter, Scat Daddy, Stormello, King Of The Roxy, Skip Code, Teuflesberg, Got The Last Laugh, Principle Secret.

1st

Maiden Special Weight, 6½f, Arlington Park, beating Izzie's Halo.

3rd

Lane's End Breeders' Futurity (G1), 8½f, Keeneland, to Great Hunter, Circular Quay, beating Birdbirdistheword, Teuflesberg.

3rd

Arlington-Washington Breeders' Cup Futurity (G3), 8f, Arlington Park, to Got The Last Laugh, Officer Rocket, beating Dominican.
At 3
1st

Kentucky Derby (G1), 10f, Churchill Downs, beating Hard Spun, Curlin, Circular Quay, Tiago, Any Given Saturday, Nobiz Like Shobiz, Dominican, Great Hunter, Bwana Bull, Teuflesberg, Scat Daddy, Stormello, Cowtown Cat.

1st

Travers S (G1), 10f, Saratoga, beating Grasshopper, Helsinki, Sightseeing, C P West,Loose Leaf, For You Reppo.

1st

Jim Dandy S (G2), 9f, Saratoga, beating C PWest, Sightseeing, Cowtown Cat, Flashstorm, Tiz Wonderful.

1st

Tampa Bay Derby (G3), 8½f, Tampa Bay Downs, in a new track record of 1:43.11, beating Any Given Saturday, Delightful Kiss.

2nd

Preakness S (G1), 9½f, Pimlico, to Curlin, beating Hard Spun, Circular Quay, King Of The Roxy, Xchanger.

2nd

Blue Grass S (G1), 9f, Keeneland, to Dominican, beating Teuflesberg, Great Hunter.

2nd

Kentucky Cup Classic (G2), 9f, Turfway Park, to Hard Spun, beating Stream Cat, Cat Shaker.

4th

Breeders' Cup Classic (G1), 10f, Monmouth Park, to Curlin, Hard Spun, Awesome Gem, beating Tiago, Any Given Saturday, Lawyer Ron, Diamond Stripes.
Son of Street Sense battles to a hard-fought head victory to earn first Stakes score
Street Strategy battled with Departing the length of the stretch, finally edging clear in the shadow of the wire to capture the Fifth Season Stakes by a head at Oa
In this section you can view and print the forms necessary for the 2016 breeding season.
2016 Mare Information Sheet - this form must be on file before your mare can be booked. Please double-check pedigree, correct spelling and ownership.
Click here to download this form and print it. (32 KB)
Breeding Shed Form and Shed Requirements - this form must accompany the mare on each trip to the breeding shed. Thank you for your assistance.
Click here to download this form and print it. (18 KB)
You must have Adobe Acrobat Reader to view and print these forms. If you need to get this free program, click here.