B 2004 16.3HH (1.70M)
By Danzig – Turkish Tryst (Turkoman)
$45,000
Stands and nurses. Standing at Jonabell Farm
Danzig's last G1-winning son who sired more first-crop Stakes winners than any other stallion ever. Sire of eight G1 winners so far, including Eclipse Champion Questing and Arlington Million winner Hardest Core, plus 2015 G1 scorers Hard Not To Like, Hard Aces, and Smooth Roller.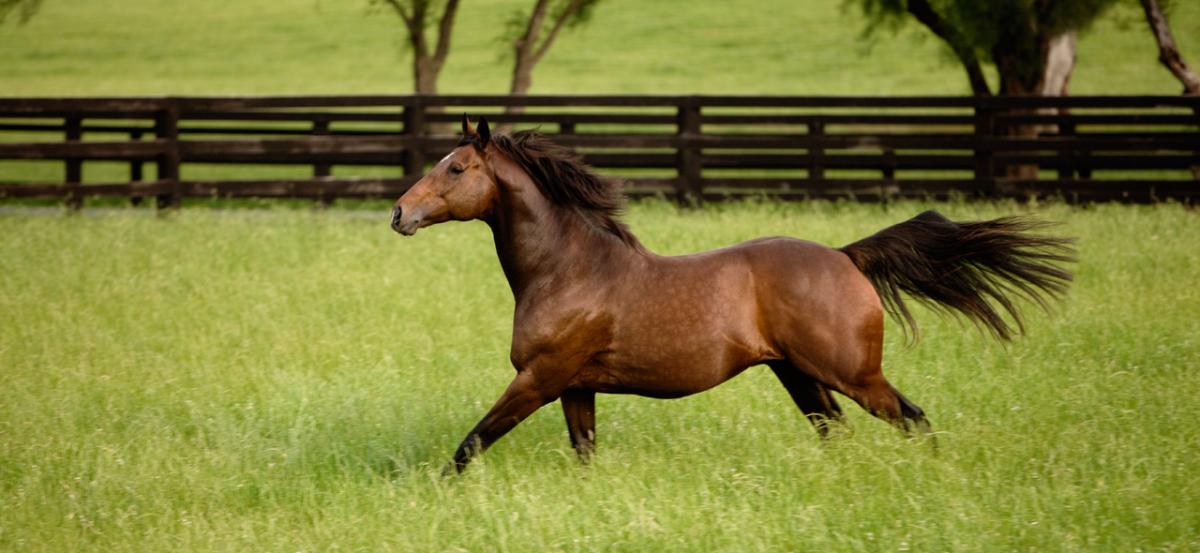 HARD SPUN

DANZIG

NORTHERN DANCER

NEARCTIC

NEARCO

LADY ANGELA

NATALMA

NATIVE DANCER

ALMAHMOUD

PAS DE NOM

ADMIRAL'S VOYAGE

CRAFTY ADMIRAL

OLYMPIA LOU

PETITIONER

PETITION

STEADY AIM

TURKISH TRYST

TURKOMAN

ALYDAR

RAISE A NATIVE

SWEET TOOTH

TABA

TABLE PLAY

FILIPINA

DARBYVAIL

ROBERTO

HAIL TO REASON

BRAMALEA

LUIANA

MY BABU

BANQUET BELL
By DANZIG (1977) Leading sire of 1,099 foals aged three and up, including HARD SPUN, AGNES WORLD, ANABAA, BELONG TO ME, CHIEF'S CROWN, DANEHILL, DAYJUR, GREEN DESERT, LANGFUHR, LIBRETTIST, LURE, MUJAHID, POLISH NUMBERS, POLISH PRECEDENT, WAR CHANT, ZIETEN, etc.
1st dam: TURKISH TRYST by Turkoman. 4 wins (9f-12f) at 3 and 5, April Run S, 3rd Matchmaker S (G2). Dam of 7 foals, 5 to race, 5 winners:
HARD SPUN (c Danzig) G1 winner, see Race record.
OUR RITE OF SPRING (f Stravinsky) 3 wins (8f-8¼f) at 3, Exogenous S.
Wild Current (g Wild Again) 7 wins (6f-7f), 2 to 5, 2nd Damitrius S, Lyman Sprint Championship H.
2nd dam: DARBYVAIL by Roberto. Winner (8f-9f) at 2 and 3. Dam of 3 winners:
TURKISH TRYST (f Turkoman) Black Type winner, see above.
Pastelartist (f Gulch) Placed at 3 and 4. Dam of:
DOWN THE RIVER (f Meadowlake) Winner at 3. Dam of: RIVAL DAN (c Hidden Truth) Clasico Polla de Potrillos (G2).
3rd dam: Luiana by My Babu. Half-sister to CHATEAUGAY (Champion three-year-old colt in the US, Kentucky Derby. Sire); PRIMONETTA (Champion older mare in the US, Marguerite S). Dam of 7 winners:
LITTLE CURRENT (c Sea-Bird) Champion three-year-old colt in the US, Preakness S (G1), Belmont S (G1), 2nd Travers S (G1). Sire.
PRAYERS 'N PROMISES (f Foolish Pleasure) Matron S (G1), Spinaway S (G1), 3rd Frizette S (G1). Dam of:
NABEEL DANCER (c Northern Dancer) Prix du Gros Chene (G2), 2nd Cork and Orrery S (G3), 3rd Prix de l'Abbaye (G1). Sire.
ANJIZ (c Nureyev) Phoenix Breeders' Cup S. Sire.
Palm Dove (f Storm Bird) Dam of: BUFFALO BERRY (f Sri Pekan) Reeve Schley, Jr S (G3). Grandam of: CHATTAHOOCHEE WAR (c War Chant) Transylvania S (G3), 3rd Secretariat S (G1); GOLDEN ARROW (c Danehill) Rochestown S, 2nd National S (G1).
WATER DANCE (f Nijinsky) Twilight Tear H, 3rd Long Look H (G2). Dam of:
Sutter's Prospect (c Mr. Prospector) 3rd Equipoise Mile H (G3). Sire.
FOPPY DANCER (f Fappiano) Winner at 2. Dam of: MAGIC STORM (f Storm Cat) Monmouth Breeders' Cup Oaks (G2), 3rd Spinaway S (G1). Grandam of: DRILL (c Lawyer Ron) Del Mar Futurity (G1); LACHESIS (f Deep Impact) Queen Elizabeth II Cup (G1), Sankei Osaka Hai (G2), 2nd Queen Elizabeth II Cup (G1).
Fair Renown (f Stage Door Johnny) Placed at 3. Grandam of: CUTTING BLADE (c Sharpo) Coventry S (G3). Sire.
Luv Luiana (f Roberto) Unraced. Dam of:
ALMAZYOON (f Danehill) Emancipation S (G3). Dam of: EL MAZE (g El Moxie) Spring S (G3), City of Marion S, Oakbank S.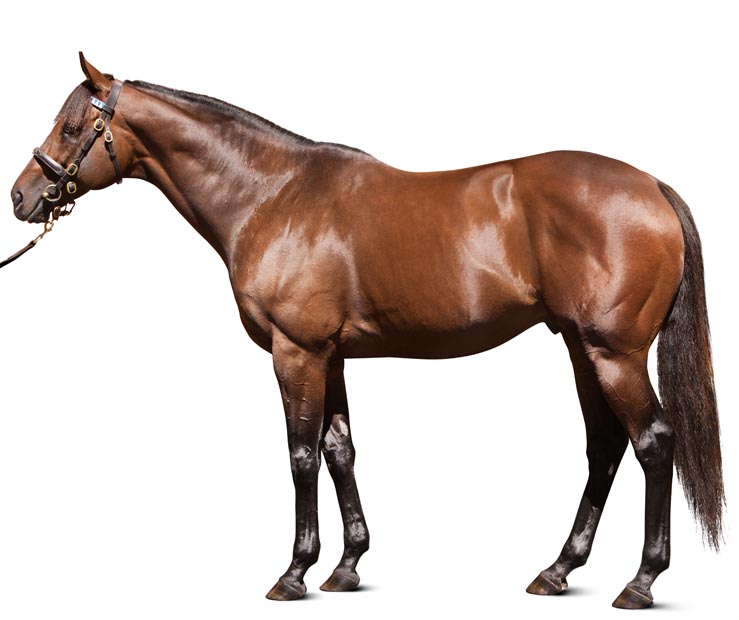 | | | | | | |
| --- | --- | --- | --- | --- | --- |
| Age | Starts | 1st | 2nd | 3rd | 4th |
| Two | 3 | 3 | - | - | - |
| Three | 10 | 4 | 3 | 1 | 2 |
| Total | 13 | 7 | 3 | 1 | 2 |
At 2
1st

Pennsylvania Nursery S, 7f, Philadelphia Park, by 7¾l, beating Favorite Valay, Legacy Reserve, Mr Boxcar.

1st

Port Penn S, 6f, Delaware Park, by 5l, beating Heart Throbbin', E Cash Rich.

1st

Maiden Special Weight, 5½f, Delaware Park, by 8¾l.
At 3
1st

King's Bishop S (G1), 7f, Saratoga, beating First Defence, E Z Warrior, Teuflesberg, Most Distinguished, Bold Start, King of the Roxy, Longley, Pauillac, Forty Grams, Spin Master.

1st

Lane's End S (G2), 9f, Turfway Park, by 3¼l, beating Sedgefield, Joe Got Even, For You Reppo, Starbase, Twilight Meteor, Sports Town, Approval Rating, Forefathers.

1st

Kentucky Cup Classic (G2), 9f, Turfway Park, beating Street Sense, Stream Cat, Cat Shaker.

1st

LeComte S (G3), 8f, Fair Grounds, by 6½l, beating Izzie's Halo, Teuflesberg, Makeithapencaptain, Beta Capo.

2nd

Kentucky Derby (G1), 10f, Chuchill Downs, to Street Sense, beating Curlin, Imawildandcrazyguy, Sedgefield, Circular Quay, Tiago, Any Given Saturday, Sam P, Nobiz Like Shobiz, Domincan, Zanjero, Great Hunter, Liquidity, Bwana Bull, Storm In May, Teuflesberg, Scat Daddy, Stormello, Cowtown Cat.

2nd

Breeders' Cup Classic (G1), 10f, Monmouth Park, to Curlin, beating Awesome Gem, Street Sense, Tiago, Any Given Saturday, Lawyer Ron, Diamond Stripes.

2nd

Haskell Invitational (G1), 9f, Monmouth Park, to Any Given Saturday, beating Curlin, Imawildandcrazyguy,Cable Boy, Xchanger, Reata's Shadow.

3rd

Preakness S (G1), 9½f, Pimlico, to Curlin, Street Sense, beating C PWest, Circular Quay, King Of The Roxy, Xchanger, Flying First Class.

4th

Belmont S (G1), 12f, Belmont Park, to Rags To Riches, Curlin, Tiago, beating C P West, Imawildandcrazyguy, Slew's Tizzy.

4th

Southwest S, 8f, Oaklawn Park, to Teuflesberg, Officer Rocket, Forty Grams, beating Xchanger, Going Ballistic, Starbase, Our Sacred Honor, I Got A Dream.
Power Trip claims Maribyrnong Plate on Stakes Day at Flemington
Hard Spun two-year-old Power Trip appears to have a bright future after winning the G3 Maribyrnong Plate over 100
In this section you can view and print the forms necessary for the 2016 breeding season.
2016 Mare Information Sheet - this form must be on file before your mare can be booked. Please double-check pedigree, correct spelling and ownership.
Click here to download this form and print it. (32 KB)
Breeding Shed Form and Shed Requirements - this form must accompany the mare on each trip to the breeding shed. Thank you for your assistance.
Click here to download this form and print it. (18 KB)
You must have Adobe Acrobat Reader to view and print these forms. If you need to get this free program, click here.