B 2003 16.1½HH (1.66M)
By A.P. Indy – Cara Rafaela (Quiet American)
$100,000
Stands and nurses. Standing at Jonabell Farm
Proven sire of both the superstar racehorse and sales-ring smash. A Travers winner who sired Travers winners in his first two crops. Thirteen G1 winners so far, including Humana Distaff scorer Dame Dorothy, Test heroine Cavorting, Spinaway winner Rachel's Valentina, and Champagne victor Greenpointcrusader in 2015.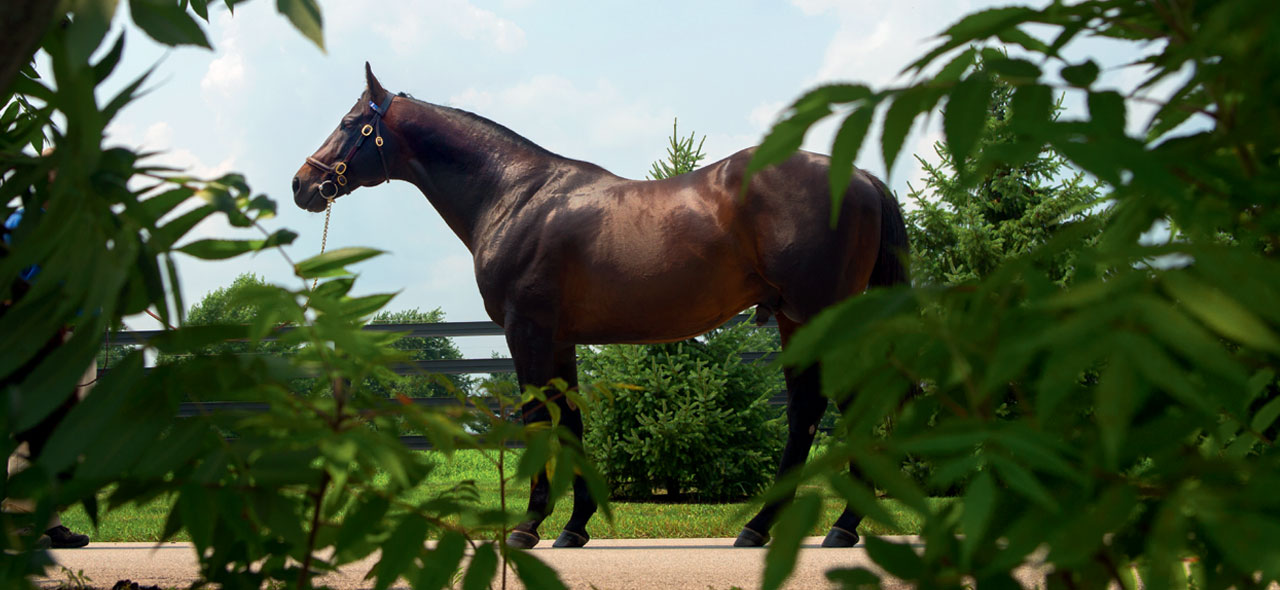 BERNARDINI

A P INDY

SEATTLE SLEW

BOLD REASONING

BOLDNESIAN

REASON TO EARN

MY CHARMER

POKER

FAIR CHARMER

WEEKEND SURPRISE

SECRETARIAT

BOLD RULER

SOMETHINGROYAL

LASSIE DEAR

BUCKPASSER

GAY MISSILE

CARA RAFAELA

QUIET AMERICAN

FAPPIANO

MR PROSPECTOR

KILLALOE

DEMURE

DR FAGER

QUIET CHARM

OIL FABLE

SPECTACULAR BID

BOLD BIDDER

SPECTACULAR

NORTHERN FABLE

NORTHERN DANCER

FAIRWAY FABLE
By A.P. INDY (1989) Champion three-year-old colt in the US, Breeders' Cup Classic (G1), Belmont S (G1), etc. Sire of 1,223 foals aged three and up, including BERNARDINI, GIROLAMO, A. P. ADVENTURE, A P VALENTINE, APTITUDE, DREAMING OF JULIA, FLASHING, FRIENDS LAKE, GOLDEN MISSILE, HONOR CODE, JUST AS WELL, LITTLE BELLE, LOVE AND PRIDE, MAJESTIC WARRIOR, MINESHAFT, MUSIC NOTE, RAGS TO RICHES, RUNUP THE COLORS, SECRET STATUS, STEPHEN GOT EVEN, TAKE CHARGE INDY, TELLING, TEMPERA, TOMISUE'S DELIGHT, etc.
1st dam: CARA RAFAELA by Quiet American. 4 wins (6½f-8½f) at 2 and 4, Hollywood Starlet S (G1), Alcibiades S (G2), Pio Pico S, 2nd Breeders' Cup Juvenile Fillies (G1), Matron S (G1), Ashland S (G1), Santa Anita Oaks (G1), Las Virgenes S (G1), 3rd Mother Goose S (G1), Kentucky Oaks (G1). Broodmare of the Year. Dam of 14 foals, 10 to race, 5 winners:
BERNARDINI (c A.P. Indy) Champion, see Race record.
Ile De France (f Storm Cat) Winner (5f-8½f) at 2 and 3, 3rd Santa Anita Oaks (G1). Dam of:
LOVE AND PRIDE (f A.P. Indy) Zenyatta S (G1), Personal Ensign H (G1), Obeah S (G3), Proud Spell S, 2nd Top Flight H (G2), 3rd Gazelle S (G1).
BURGUNDY ICE (f Storm Cat) 2 wins (7f-8f) at 2 and 3.
BOLD LEGACY (c Seattle Slew) Winner (7f) at 4. Sire.
PIN UP (f Tapit) Winner (9½f) at 3, 2015.
Lovely Regina (f Deputy Minister). Dam of:
THISKYHASNOLIMIT (c Sky Mesa) Texas Mile S (G3), Iroquois S (G3), 2nd Indiana Derby (G2), Razorback H (G3), Iowa Derby (G3).
2nd dam: OIL FABLE by Spectacular Bid. Winner (6f) at 3. Dam of 9 winners:
CARA RAFAELA (f Quiet American) G1 winner, see above.
ABAGINONE (c Devil's Bag) 7 wins, 3 to 5, Potrero Grande Breeders' Cup H (G3), Los Angeles H (G3), Daly City H. Sire.
Port Isabel (f Time To Explode) Placed at 2. Dam of:
PORTSIDE (f Congrats) Star Shoot S, 2nd Out Ruled S, 3rd Busher S.
3rd dam: NORTHERN FABLE by Northern Dancer. Palomar H (G3), Torrey Pines S. Dam of 7 winners:
Haiati (f Alydar) 2nd Hoover Mile (G2), Distaff H (G2). Dam of:
HALEAKALA (f Kris) Bug Brush S. Grandam of: OUR PEDROIA (c Catienus) Curlin S.
Blue Burner (c French Deputy) 2nd Florida Derby (G1). Sire.
Alyfable (f Alydar) Unraced. Dam of:
MEGAN'S LEPRECHAUN (f Green Dancer) Lakeway S.
Southern Fable (f Exclusive Native) Unraced. Dam of:
UP DIP (f Kerosene) Davona Dale S.
| | | | | | |
| --- | --- | --- | --- | --- | --- |
| Age | Starts | 1st | 2nd | 3rd | 4th |
| Three | 8 | 6 | 1 | - | 1 |
| Total | 8 | 6 | 1 | - | 1 |
At 3 World Champion three-year-old; Eclipse Champion three-year-old colt
1st

Jockey Club Gold Cup (G1), 10f, Belmont Park, by 6¾l, beating Wanderin' Boy, Andromeda's Hero, Dylan Thomas.

1st

Travers S (G1), 10f, Saratoga, by 7½l, beating Bluegrass Cat, Dr Pleasure, Hesanoldsalt.

1st

Preakness S (G1), 9½f, Pimlico, by 5¼l, beating Sweetnorthernsaint, Hemingway's Key, Brother Derek, Greeley's Legacy.

1st

Jim Dandy S (G2), 9f, Saratoga, by 9l, beating Minister's Bid, Hemingway's Key, Oh So Awesome.

1st

Withers S (G3), 8f, Aqueduct, by 3¾l, beating Doc Cheney, Luxembourg.

1st

Maiden Special Weight, 8f, Gulfstream Park, by 7¾l, beating High Finance.

2nd

Breeders' Cup Classic (G1), 10f, Churchill Downs, to Invasor, beating George Washington, Brother Derek, Giacomo, Lava Man.
Son of Bernardini makes Stakes debut a winning one with determined neck victory
Sassicaia made the successful leap into Graded Stakes company when he captured the G3 Toboggan by a determined neck at Aqueduct Race Course.
In this section you can view and print the forms necessary for the 2016 breeding season.
2016 Mare Information Sheet - this form must be on file before your mare can be booked. Please double-check pedigree, correct spelling and ownership.
Click here to download this form and print it. (32 KB)
Breeding Shed Form and Shed Requirements - this form must accompany the mare on each trip to the breeding shed. Thank you for your assistance.
Click here to download this form and print it. (18 KB)
You must have Adobe Acrobat Reader to view and print these forms. If you need to get this free program, click here.